Existing Conditions:
Altered laxity of the vaginal wall and the mucosal tissue after childbirth or hormonal changes due to aging and menopause, mild urinary incontinence, decreased sensation and dryness.
Treatment
TempSure Vitalia delivers precise heating for smaller, hard-to-reach areas to temporarily increase local circulation, decrease pain and muscle spasms.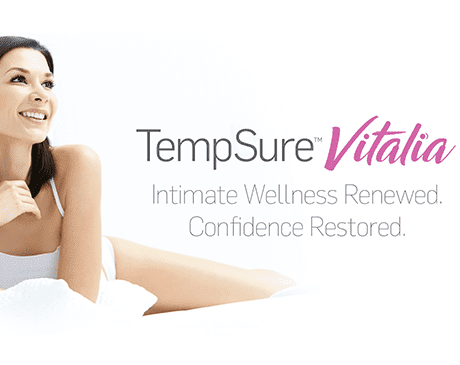 TempSure is a 300 watt, 4 MHz expandable RF platform for aesthetic procedures. Applications include, wrinkle reduction, skin tightening through soft tissue coagulation, cellulite reduction and women's wellness.
Tighter, Wrinkle-Free Skin. TempSure comes with handpieces and protocols that can reduce the appearance of facial wrinkles.
Firmer, More Lifted Skin. Skin can lose its firmness and elasticity over time due to sun damage and aging.
Reduced Appearance of Cellulite.
Improved Feminine Wellness.