Existing Conditions:
Dynamic/expression facial lines (between eyebrows, horizontal lines on the forehead, crow's feet around the eyes, drooping mouth corners) neck spasm (cervical dystonia), excessive sweating, lazy eye, overactive bladder. Thinning lips, shallow facial areas, shadow/wrinkles under the eyes, recessed scars, static wrinkles.
Treatments: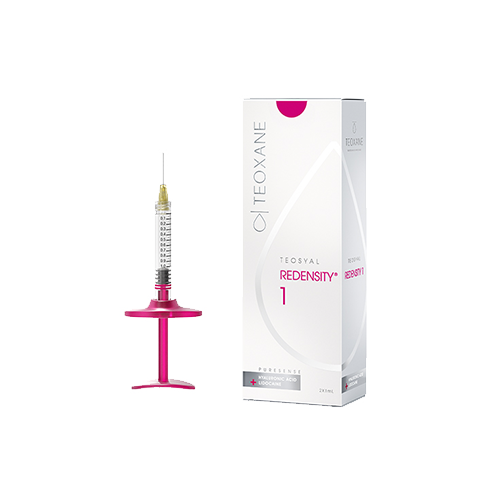 TEOSYAL® PureSense Redensity [I] also known as Redensity I is the newest award-winning skin rejuvenation treatment on the beauty market. This cost-effective revitalizer is meant to restore hydration, luminize and tone skin. The light filling innovation is designed to target dull complexion, fine lines and dehydrated skin on the face, neck, décolleté and hands. The treatment uses a product consisting of 8 amino acids, 3 antioxidants, 2 minerals, hydrating hyaluronic acid, and 1 vitamin – all ingredients naturally present in the skin.
Benefits:
Immediate, natural-looking results.
Safer alternative to surgery.
Customizable to target specific areas.
Minimal downtime.